Anydro Tours with Oikonomou Petros and his partners
WATCH THE VIDEO:

EXPLORE THE UNIQUE FARMING SCENE OF SANTORINI, TASTE TRADITIONAL WINES AND LEARN HOW TO COOK AS A LOCAL!
information & booking
DAILY EXCLUSIVE AGRICULTURAL AND ARCHITECTURAL TOUR
One of the best experience to discover the best sides of the island! you can feel the true vibe of Santorini, in his heart, Megalohori! and much more, you can feel as a local next to Anna and Petros!

This tour was a step into the quiet side of Greece, agriculture and a true showing of their people. The wine, of course, was amazing. The farm visit was more than we even thought it could be. The hospitality, friendliness, happiness and generosity of Petro was unbelievable.

We didn't quite know what we were in for, but they cooked us up fresh Greek meal from the garden with smiles and stories and it was genuine happiness. Very cool to learn more about the unique agriculture there. We would recommend this to anyone or any age on any trip!

Had the most amazing experience and met the most wonderful people. Tour guide Anna was friendly and full of interesting facts. Wine tasting was great and visiting the farm, cooking and having lunch was the best. Was like being with family. Thoroughly enjoyed this and would highly recommend it to anyone.
FInd out about ANYDRO and the production of organic cherry tomato in Santorini from the past to present
"In the year 1997, after many experiments with growing different types of tomato, I began to grow the local variety, in Megalochori. Next thing to do, was to try the traditional way of cultivating the tomato and after packing the product in jars, to leave it up to the consumers to decide about the future of this effort.", says Petros Oikonomou.
Fourty years ago, Petros Oikonomou, agronomist and teacher, visited for the first time Santorini and fell in love with the island and its rich farming history. Subsequently, he dropped his career, packed his bags and set as a life goal to revive the production of the Santorini cherry tomato. After many years of collecting seeds and recording the traditional farming and processing ways, he initiated his own organic tomato farm, that resulted to award winning products and the re-establishment of tomato production in the island. Nowadays, Petros continues producing a variety of local signature products while he trains the new generation of local farmers, aiming to diversify the economy of the island.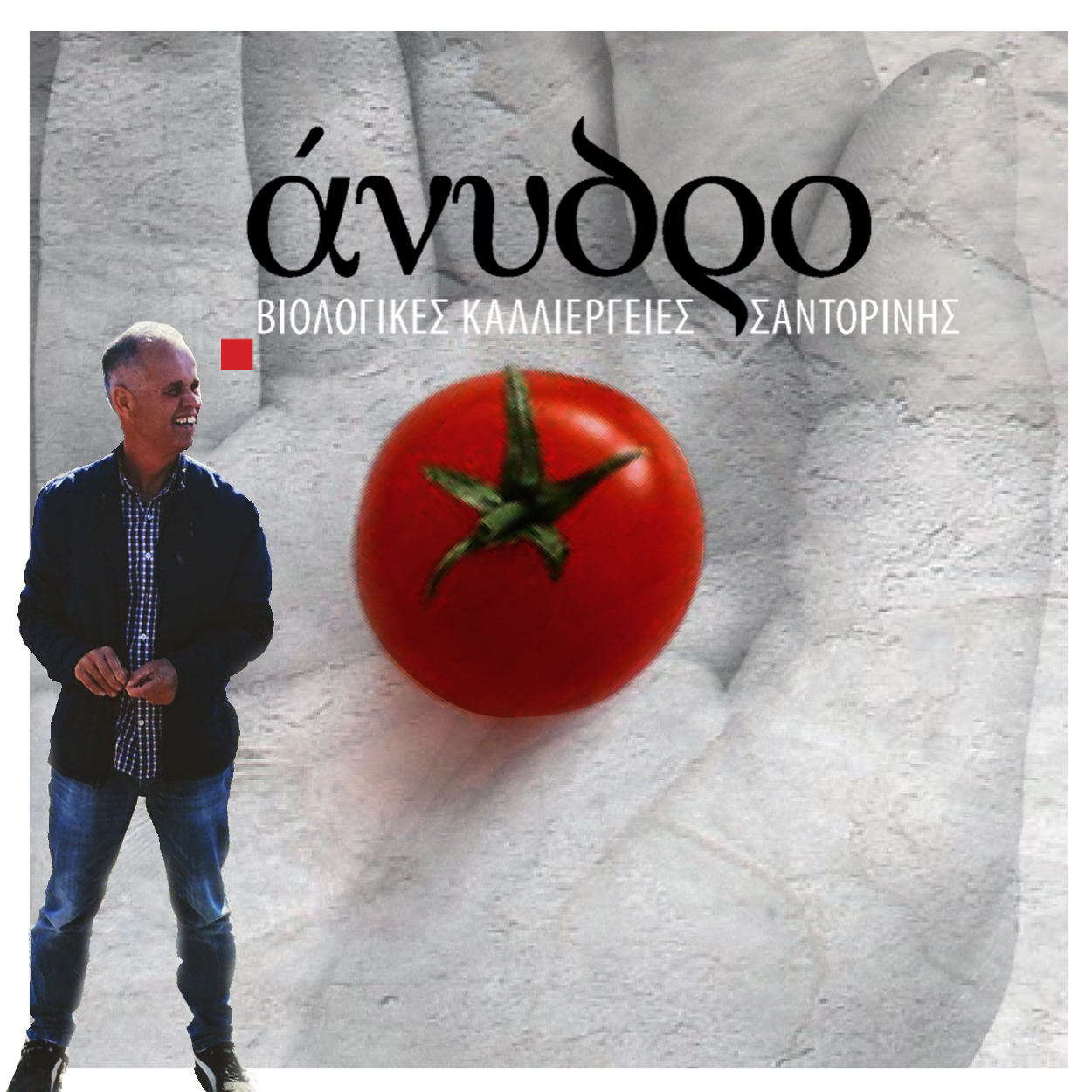 Explore the unique farming scene of Santorini, taste traditional wines and learn how to cook as a local.